GETTING TO AURORA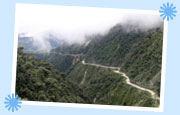 The province can be accessed from Manila via two routes, the Canili-Pantabangan road and the Baler-Bongabon Road. The former leads into the town of Maria Aurora. Some portions of the road are very steep. The latter route leads to the town of San Luis and ends in Baler. This route is more commonly used. The use of public transportation is recommended for traveling to Baler. Driving a personal vehicle to Baler may be difficult, given the long drive through rough, narrow and zigzagging mountain roads. Through the joint efforts of Senator Edgardo Angara and Governor Bella Angara-Castillo, the Baler-Bongaban Road has been largely paved with cement. This cuts travel time by almost two hours, making it a more comfortable trip for private vehicle travelers. Sport utility vehicles are highly recommended.From time to time, the Baler-Bongabon road is inaccessible due to landslides and typhoons.Travelers are advised to contact locals, local government offices or public transportation companies which have routes to/from Aurora for information on which route is ideal to use at any given time.

Land Transportation
Manila to Baler
From Manila, enter the North Expressway at Balintawak and exit at Sta. Rita Bulacan. From there, follow the highway leading to Cabanatuan City, Nueva Ecija. It is advisable to stop for a snack here in preparation for a rough journey. From Cabanatuan City Proper, follow signs leading to Bongabon until you come to a fork, where you see a sign "to Baler" headed right. Turn right and you will reach the foot of the Baler-Bongabon highway which eventually runs right into Aurora National Memorial Park. Beware of wild zigzagging roads, fast trucks and landslides during rainy season. Use this opportunity to view the lush virgin forests of the Sierra Madre Mountain Range. After approximately 150 kilometers, you will see the Aurora Welcome Arch. Proceed until you reach the town of San Luis. Stay on the highway until you see the sign going to Baler, and you will be in its town proper within minutes.

Genesis Transport Bus provides the only direct route to Baler from Metro Manila. One way fare costs PhP341. Its terminal is located along EDSA in Pasay City. You may call +63 (2) 551-0842 or +63 (2) 853-3115 for inquiries.

There are Pantranco North buses that go on daily trips from Manila to Cabanatuan, and sometimes also goes through to Baler. Take a bus marked Aparri, Ilagan, San Jose or Tuguegarao. The trip takes about two and a half hours. Travelers from the north will have to change buses at Cabanatuan.

Alternatively, take a Baliwag Transit bus from the terminal at Cubao, Quezon City, which goes to Cabanatuan, Nueva Ecija. From there, go to the Sierra Madre Transit or Pantranco terminals and take a bus heading for Baler. The last bus leaves at 3:00 p.m. Jeepney rides are also available. On the return trip, take the Genesis Sierra Madre and Pantranco buses from Baler Poblacion.

Manila to Dingalan
Take a bus from Manila to Cabanatuan, Nueva Ecija. Once there, find the terminal for the Dingalan-bound buses and take a Danilo Express bus bound for Dingalan. A jeepney is also an option. On the return trip to Manila, take the Danilo Express. There are only two bus trips to and from Dingalan in a day, once in the morning and once in the afternoon.