SOCIO-ECONOMIC PROFILE
Population
Population Size
Aurora Province has a population of approximately 173,797 based on the May 2000 national census. It has a density of 54 persons per square kilometer, the fifith lowest in the country. The province's growth rate has slowed down to an annual rate of 1.84%.
Demographics
Aurora has a predominantly rural population. Approximately 75.85% percent of the total populace lives in rural areas, while the remaining 24.15% lives in urban areas.
Aurora has a large youth demographic, with 43.16 percent of the total population younger than 15 years of age. The largest age group, however, is the 15 to 64 range, which comprises 50.68 percent of the population. Those aged 65 years and older represent the remaining 2.56 percent.
The sex ratio is 106 males for every 100 females.
Education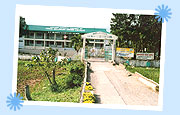 Aurora's educational needs are met by public institutions consisting of 128 primary and elementary schools, 25 secondary schools, and one state college. This is augmented by 25 private elementary and secondary schools as well as three private colleges. Public schools dominate the educational system of the province.
Forty-seven percent of the total household population aged five years and older have attended or completed elementary education while 29.74% have attended or completed secondary studies. Only 7.89% of the population attended or completed college. The rest had either vocational background or had not gone to school. While there were more males who attended or finished elementary and secondary studies, females holding academic degrees and post baccalaureate courses outnumbered males.
According to the country's Department of Education (DepEd), Aurora's population showed a literacy rate of 94.54% in 2000.
Healthcare
The province has four government hospitals located in the municipalities of Baler, Casiguran, Maria Aurora, and Dingalan. It has 44 barangay health stations, mainly located in the central municipalities. Each municipality has a health center to support the hospitals in bringing medical assistance to the barangays.
Health manpower under the Department of Health Provincial Health Office include 19 physicians, 24 nurses, 52 midwives, 9 dentists, 9 sanitary inspectors, 4 medical technologists, 2 pharmacists, 2 health inspectors, a nutritionist/dietician and a sanitary engineer.
Recreation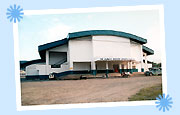 Recreational facilities totaled 246 in 1988. The majority of facilities, or 41.9 percent of the provincial total, are located in the municipalities of Maria Aurora and Dingalan.
The most common types of recreational facilities are basketball and volleyball courts, which can be found in virtually every municipality and many barangays. Pool halls are also popular.
Cockfighting is the most popular form of recreation for men. Most of the cockfighting enthusiasts from the central zone and northern towns still go to Baler and San Luis to enjoy the sport.
Only three movie houses were operating in Aurora as of 1988. They are located in the municipalities of Baler, Dipaculao and Maria Aurora, respectively.
Security & Safety
Three Philippine National Police (PNP) forces maintain peace and order in Aurora. They are stationed in Baler, Casiguran and Maria Aurora, respectively. There are also a number of PNP detachments in other areas of the province. In addition, each municipality has its own police headquarters.