INFRASTRUCTURE PROFILE
Aurora is traversed by a total road network of 1,287.8 kilometers. Most of these roads (75%) are gravel-surfaced. Earth-surfaced roads comprise almost 14%, while 10% are concrete. Asphalt roads comprise only 1% of the total road network.
During the rainy and monsoon season, the gravel and earth roads are very difficult to pass. Some of these unsurfaced road sections cover mountainous terrain. These sections are prone to landslides, especially during the rainy season.
Most of the roads lack ditches and adequate drainage systems, resulting in the accumulation of water on the roadway and the accompanying soil erosion of some embankments.
The coastal road sections located along the Baler-Casiguran Road are naturally surfaced with fine sand which, when dry, are difficult for small vehicles to pass through.

Port Network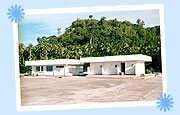 There are six ports in Aurora. Four are municipal ports and are located in Baler and Casiguran. Two are private ports used for travel to and from Dilasag and Baler during the rainy season when parts of the Baler-Casiguran Road are unsafe for vehicular traffic.

Air Transport System
There are four feeder airports in the province. Two are private landing strips, one is a private airstrip, and one is an airfield. The airfield, now called the Dr. Juan C. Angara Airport, has a concrete runway that measures 875 x 30 meters. It is located at Barangay San Isidro, San Luis, some seven kilometers from the capital town of Baler.
South East Asian Airlines (SEAir) flies from the Manila Domestic Airport to the Dr. Juan C. Angara Airport twice a week.

Water Supply
Pumps comprise the most common water supply systems used by households, accounting for 91% of the 9,209 total water facilities.
Households in Baler do not have much difficulty accessing the water supply, since all types of facilities are available. The households in Casiguran and Dipaculao have the most constraints in obtaining water.

Electricity
Electrical power in Aurora is sourced from National Power Corporation's Luzon power grid through the Aurora Electric Cooperative, Inc., or AURELCO's 5 MVA power substation in Barangay San Isidro, San Luis using a 69 KV power transmission. This source only reaches the central municipalities of the province, which serve all barangays of Baler and San Luis. The NPC/AURELCO electric power generator services the northern towns, except Dilasag, which derives its power from a logging company. Dingalan falls under the services of Nueva Ecija Electric Company III.
All the municipalities of Aurora are served by electricity. Baler has the most number of energized households.

Communications
In 1988 the province had 28 existing communication facilities. Telecommunications facilities were composed of five public and two private telegraph stations and six public and four privately-owned radio communications systems.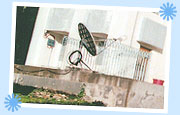 Due to a lack of qualified technical personnel and funds for maintenance, the radio telegraph stations in Dipaculao, Dilasag and Dinalungan have been closed since 1988.
Privately-owned telecommunications facilities in Baler include RCPI and PT&T for telegraph service, and PLDT for long-distance and overseas calls, with a relay station in Barangay Buhangin. A Bureau of Telecommunication (BUTEL) office can also be found in Casiguran, with AZ Communication in Baler serving as the transmitting station.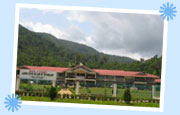 High-speed internet access is available in Baler. PT&T and GR8site Internet provide internet access to the public while the Aurora State College of Technology (ASCOT) provides the same service to its students, faculty and staff.
A communication system that was known before as Provincial Law Enforcement Communication System (PLECS) was established under the Provincial Government to handle official communications in the entire province and other provinces in Region IV. Inter-municipal communications, including public services on emergency basis, are also facilitated by this system. The use of hand-held radio, single side band (SSB) or radio transceivers (VHF) is now popular among private and government institutions for ease of coordination with their respective field, regional or central offices.
Each municipality has its own post office, with Baler having two. Postal services are taken care of by the Bureau of Posts.
Sources of news and information are made possible by television, transistor radio and daily papers. At present, an FM station exists in Baler. In past years, the only local newspaper circulated in the province has been the Aurora Forum. Dailies from Manila reach the province in the late afternoon, owing to the bad conditions of the Baler-Bongabon National Road. In bad weather and landslides, the dailies may arrive the following day.