Aurora hosts 2009 Mutya beauty tilt
By Robert R. Requintina
Sunday, July 26, 2009
Manila Bulletin
All roads lead to Aurora Province as is stages the 2009 Mutya ng Pilipinas beauty pageant next month. This year's theme is "Aurora: The Beauty Adventure in the Pacific."
Mutya ng Pilipinas-International 2004 Jedah Hernandez, Mutya ng Pilipinas-Tourism 2007 Anna Morelos, and Mutya ng Pilipinas 1st Runner-up 2008 Katrina Rigets went backpacking, drove past the endless highways, endured hours of bumpy roads of Nueva Ecija and Viscaya, and finally set foot in Aurora - the majestic province of natural landscrapes, historic spots, and warm and affectionate people.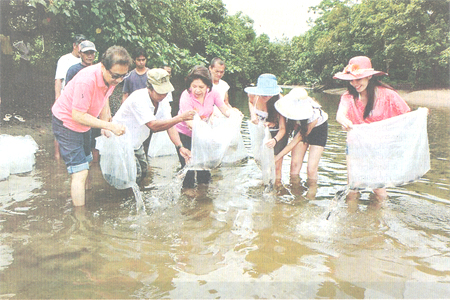 Mutya ng Pilipinas President Roberto de Venecia, some Baler fishermen, Aurora Governor Bellaflor Angara-Castillo, and the three Mutya ng Pilipinas beauty queens realeasing thousands of fingerlings in one of the banks of Cemento Beach to increase the fish population in the fishing areas of Baler Town.
The beauty queens did not go to Aurora just to explore its scenes. They also initiated eco-friendly activities to fulfill the pageant's objective of promoting social responsibility.
Together with Governor Bellaflor Angara-Castillo, the ladies, Mutya ng Pilipinas President Roberto de Venecia, and other local environmental and tourism officials wend to one of the banks of Cemento Beach for the release and seeding of thousands of fingerlings in the area.
The group also went to Sabang beach, one of Aurora's best surfing locations. The ladies did not have the chance to ride the waves, but they delightfully spens a long time watching beginning surfers to learn to drive their boards.
All places have a share of locatons where great historic events happened. One of these places is Ermita Hill, known to be the redeemer of Aurorans during the Tromba De MArina, where a major tsunami that occurred in 1735.
Through the years, Mutya served as the breeding ground of Beauty Queens.
One Mutya beauty queen who made it globally is Mutya ng Pilipinas Asia Pacific International 2006 Kirby Ann Basken, a Filipino-Norwegian descent.