Diabetease, April-May 2006
AURORA
Where Nature Finds Home

By Cesar Christopher V. Gonzales
Aurora is a treasure trove of natural and cultural attractions that promises to rejuvenate the mind, body and spirit.
A respite for the maddening grind of urban life and its many pressures is in order.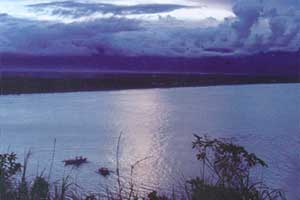 You pack your bag and shunning the usual weekend getaways, take a 45-minute SEAIR flight from Manila, to a place where the excesses of modern living take a backseat. A few minutes into your journey you are greeted by a sudden change of scenery - the industrial smog-covered wasteland gives way to lush greenery parted gracefully by a web of winding streams and rivers. You know you have finally arrived in Aurora - one of the country's best kept nature and culture hideaways.
Bordered by the provinces of Quezon on the south, Isabela on the north, Quirino and Nueva Vizcaya on the northwest and Nueve Ecija on the west, Aurora is nestled beteween the verdant forests of the Sierra Madres and the bountiful waters of the Pacific. It boasts one of the country's most extensive forest covers (approximately 70 percent of Aurora's total land area) and coastlines accented by sand, coral and pebble beaches as well as picturesque rock formations. In addition, a wide variety of inland bodies of water such as waterfalls, springs, rivers and lakes dot the province's 309,860 hectares of rich land.
You check in at Bay's Inn, one of the several beachfront facilities along Sabang Beach in Baler, Aurora's capital town. The inn is a mere five minutes away from the Central Bus Terminal and 25-minutes away from the Juan C. Angara Airport. You enter your clean, airy room equipped with all the basic amenities you need for your brief stay.

While waiting for your ginataang pako na may suso (fiddlehead ferns and snails in coconut milk) and inihaw na bigay (grilled yellow fin tuna) to cook, you watch the local surfers strut their stuff not far from the al fresco restaurant where you are seated.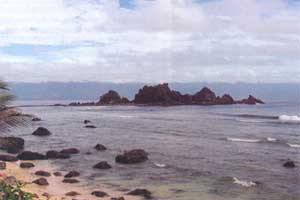 Surfing is as popular as basketball in Baler, it being the home of the oldest surfing community in the country. You toy with the idea of taking surfing lessons offered at the Baywatch Tower, a watering hole of local surfers, but decide to save it for your next visit.
You have acouple of hours to explore the locality before you head to Coco Hut, a local night club across your hotel, for some drinks. You walk to the poblacion and follow the mysterious footsteps that lead you from the Church of Baler (site of the historic 'Siege of Baler' and the last Spanish outpost in the Philippines as the marker explains) to Quezon Park, the birthplace of President Manuel L. Quezon and home to the Museo de Baler. You later find out that by following the mysterious footsteps, you get a crash course on the town's colorful past.