Philippines Free Press - January 3, 2004
Aurora's Outstanding Mother and Lawmaker
Rep. Bellaflor J. Angara-Castillo
By Totel de Jesus
If there's one outstanding personality in the House of Representatives, it is the motherly presence of Rep. Bellaflor J. Angara-Castillo of the lone district of Aurora.
She's on her final term now, having served consecutively from the 10th to 12th Congress, and what she had accomplished may remain unsurpassed for a long time.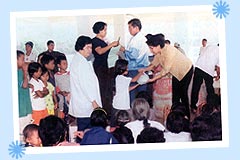 Besides being the first woman majority leader (11th Congress) in the history of Philippine Congress, she's also been elevated to the Congressional Hall of Fame for having won four consecutive outstanding congressman awards since 1998 by Congress Magazine and the Makati Graduate School.
She is the deputy minority leader in the House of Representative from January 1, 2003 to present; co-chairperson of Philippine Legislators' Committee on Population and Development, from August 29, 2001 to present. Prior to that, she was assistant minority leader, and member Commission on Appointments, from August 1, 2001 to December 31, 2002.
She had authored many important bills. Among them are RA 8293 or the Intellectual Property Code, RA 8492 or The Act Establishing A National Museum System (which provided its permanent home), RA 8980 or The Act Institutionalizing Early Childhood Care and Development and Education Centers for Children Aged Zero to Six, RA 9208 or The Act Against Trafficking in Persons Especially Women and Children and most recently, RA 9225 or The Act to Making the Citizenship of Philippine Citizens Who Acquire Foreign Citizenship Permanent.
Her excellent record, indeed, is a legacy that many young politicians, especially those in Congress, should aspire for.
To think she is not a politician by heart, having been known as the most sought-after trial lawyer for may years before embracing the call of public service.
"Back then, there was clamor to serve my province mates. It was time to return something to them. My concern has always been education. I believe that it's the best instrument against poverty.
That's why, when I started serving in Congress, the establishment of affordable but quality public education in my province was top priority." she said.
She was the wife of the most sought-after corporate lawyer in history, Atty. Gregorio R. Castillo (deceased). Despite her achievements, she brought up her children well.
She has been cited twice as an Ulirang Ina Awardee in 1999 and 2002, both given by the Mother's Day and Father's Day Foundation of the Philippines, Inc. She said part of having won the Ulirang Ina Awards is because of the accomplishments of her children.
Rep. Angara-Castillo is proud mother to ideal citizens of the country. They are Atty. Joseph Gregson Angara-Castillo, Dr. Joy Arabelle Angara-Castillo (endocrinologist) and Atty. Jerome Patrick Angara-Castillo.
The two lawyers are working in separate firms, not in the family-owned firm. Her reason: "I want them to be independent from the start. Never mind if in court, our firms are against each other. It's all part of the job. That's what makes them credible lawyers. I am proud to say that while growing up, I guide them well. No one was mayabang." (Which may serve as a humbling and shining example to children of most politicians.)
When asked for some tips on rearing brilliant children, she said, "Surround them with good books. Help them study but do not do the work for them. In the end you're helping them to have a good life. I believe that nothing can make up for your failure as a mother."
For someone who values education, it follows that Rep. Bella-Angara is an achiever in school. In 1962, she graduated cum laude and class salutatorian when she finished her Bachelor of Laws at the UP-College of Law. Simultaneously, she also graduated cum laude in Bachelor of Science in Jurisprudence, also at the University of the Philippines. In 1963, she was granted with a scholarship for Master in Law Program at Yale Law School, New Haven, Connecticut.
In 2001, she was participant in the Leaders in Development Program, John F. Kennedy School of Government in Harvard University.
For the people of Aurora, she's the frontrunner in the establishment of the Aurora State College of Technology. She had raised about P5 billion Scholarship Trust Fund. For 2003, there are 187 scholars mostly taking up engineering and agriculture. The only condition is to serve Aurora for two years after graduation.
She also believes in eco-tourism. The first international surfing event in the Philippines was actually held in Aurora about seven years ago and she was instrumental in promoting the province. But every year, a surfing competition takes place in Baler in February and ever since, her family continues to sponsor the annual surfing awards night.
Asked about her future plans, she concluded, "I'll continue serving my province mates in my own little way."