Health & Lifestyle - February 2004
A Gem of a Mother
Representative Bellaflor Angara-Castillo dares to take on controversial issues to keep up with the changing times.
By Chen Mencias
It was drizzling that morning and the sky was charcoal gray. The people of Dingalan, in Aurora province, were in the thick of preparations for the feast of Sagrada Familia. Despite the impending downpour, the local spirits were high. They were all looking forward to a day of feasting and thanksgiving.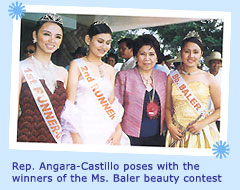 A group of youngsters were outside an A-frame house with their musical instruments and baton, unmindful of the fact that they were starting to get drenched. They played some tunes including the all too familiar "Sex Bomb". Garbed in a simple moss green blouse and black pants, Representative Bellaflor Angara-Castillo came out and motioned them to take shelter inside the house.
"I am very happy to see young people like you harnessing your talents and bringing joy to other people," Angara-Castillo told the group. "Take pride in your abilities and you will go a long way in becoming productive citizens. And just as you have done today, don't let any raindrop stop you from doing what needs to be done."
That was the first time I heard her talk in front of a crowd but one could immediately sense the warm and strong rapport she had with them. There was an instant connection.
Having been widowed and left alone to raise four children, Angara-Castillo juggled her time between career and family, a feat that very few women are able to manage successfully. She was married to lawyer Gregorio Castillo who passed away on 1992. At that time, only their eldest son had graduated from college. Despite the challenges, she was able to build on her own career and steer the directions of those of her own children.
"My husband and I have always valued education. We feel that it provides solid foundation from where the future of an individual and even a nation can grow and bear fruit," she said.
When I asked what drove her to pursue a law career, she related the sad tale of her father who was accused by his political rivals of collaborating with the Japanese occupation forces. He was charged and the young Bellaflor sat in court listening to the arguments of the lawyers. It dawned on her that it was easy to be falsely charged and convicted, specially if one is poor. That crucial episode in her life provided the inspiration to study law at the University of the Philippines where she graduated cum laude.
During the first few years of her practice, she even took on cases of people who could not afford to pay the fees of counsels and offered her services pro bono.
"Life sometimes provides events that, if one is sensitive enough, can steer you in the right direction," she points out.
This intuitiveness and foresight helped her become aware of her own children's abilities at their earliest years. She observed that her two sons, even when they were still very young, had the knack and passion of orally defending their respective opinions on any issue, trivial or not. With this keen observation, the congresswoman told her husband that the two boys were destined for law, like her. And true to her expectations, they are already well-respected lawyers.
The daughters, on one hand, had different interests. Since the eldest constantly showed compassion not only for her siblings but more so for other people's well-being, the lawmaker knew she would make a good doctor. And again, Angara-Castillo was proven right with her child who is now an internist. As to the youngest in the family, she recalls with a smile that this daughter used to bring their groceries to school and earned money by selling stuff to her classmates. She is now an accomplished entrepreneur.
Her insight provided support and inspiration to her children so they ended up maximizing their talents to the fullest. She fondly remembers her son's statement during his graduation from the Harvard Law School. "We are where our mother said we would be and we are happy with our choices."
"My family is the greatest single blessing in my life," the proud mother beamed. With such love and passion, it did not come as a surprise to her family and colleagues that she was bestowed the Ulirang Ina Award in 2002. This prestigious award was given to her by the National Mother's Day and Father's Day Foundation of the Philippines, Inc. It had been the affirmation for a previous award she received from the National Family Week Awards Committee that chose her as on Outstanding Parent-Achiever for 1999 during the Family and Parents Week Awards and Celebration.
She is one woman determined in making a valuable contribution and it is her sincere interest to uplift the living conditions of her kababayans which prompted her to join politics. With the same conviction, she decided to run for the seat of lone district representative of Aurora with the vision to provide motherly guidance to a province recognized as one of the 20 poorest in the country.
Angara-Castillo is a strong advocate for the rights of women, children, juveniles, gays and lesbians. Among the bills she has been pushing for passage in the House of Representatives, some of which have even become controversial, are those on divorce, reproductive health, integrated population and development policy, among others, thus earning the recognition of having the most number of national bills enacted into law among neophyte lawmakers during the 10th Congress.